There are two main types of fabrics used to make tents or awnings, one is polyester fabric, which is the more popular style of
tents
, and the other is polycotton fabric, which is a mixed fabric of cotton and polyester. Many customers don't know which option is best for them.
Advantages of polyester
Highly waterproof-it is water-repellent, which means it is very effective against wet weather.
Lightweight-the weight of the fabric is much lighter-so an adventure or lightweight tent is always made of polyester or nylon because they are more effective.
Different thicknesses for different purposes-suitable for novice campers, or vehicle awnings that require stronger fabrics.
Affordability- Polyester is more cost-effective than polycotton, and it is worth the money. Suitable for beginners or people who don't often camp.
Quick-drying- Polyester easily dries very fast, which is a huge advantage when trying to leave the campsite because cotton tents can take longer to dry out. Packing the tent away dry is necessary to ensure proper storage of the tent, avoiding mold and unpleasant odors.
Disadvantages of polyester
Condensation-Polyester fibers are not breathable after the water repellent treatment-so you will get a greater condensation, especially at certain times of the year when there is more moisture in the air. In addition, the waterproof performance of polyester tents is very strong, so it is difficult for moisture to leave the tent. Air tents seem to definitely get more condensation because the internal air beam attracts them.
Breathability—
Polyester tents
are not breathable, especially if they have sewn moisture-proof fabrics, which most family tents have—so you will make them very warm in hot weather because they soak up the sun and prevent hot air from coming out. In addition, in colder conditions, polyester fibers cannot retain heat, which makes polyester fibers less than ideal for early-season camping.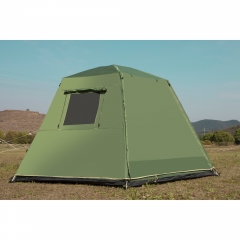 Advantages of polycotton
Adaptability-Polycotton's main advantage is its ability to adapt to different climates. Cotton works well in colder weather because it retains heat and also works well in warm conditions because the fabric is breathable and will stay cooler than polyester.
Durability-suitable for long camping trips, because the fabric will not degrade as quickly as polyester fabric.
UV degradation-suitable for foreign travel in strong sunlight. UV degradation is the number one killer of tents—fading and damaging the fabric—under these climatic conditions, polycotton is more durable than polyester.
Structure-As a structure, polycotton is stronger than polyester and compared with polyester, it can withstand higher wind speeds.
Quieter in the wind-the powerful power of polycotton can also keep quiet in a windy conditions-this fabric will not make the high-decibel rustling sound of polyester fabrics in the wind.
Disadvantages of polycotton
Heavier-this fabric is much heavier than polyester and more difficult to transport. Ideally, heavier family tents require two people to carry them in and out of the car.
Larger packaging size-Compared with polyester tents, polycotton tents have larger packaging sizes, which means they take up more space in the car.
Weathering is required-any polycotton tent needs weathering. To do this, the fabric needs to be treated with water and then allowed to dry. The best exercise is to throw a ball in the garden, use a hose, and let it dry. This is because the fabric swells when it is wet and becomes tight once it has completely dried out.
It will dry out slowly
We are
Polyester tent suppliers
. Please feel free to contact us if you are interested in our products.