Bell Tent Buying Tips And Recommendations
Unlike most modern tents, some bell tents have a separate groundsheet. We prefer and recommend those with zippers or sewn-in groundsheets.
Due to the nature of the canvas,
bell tents
are rarely completely waterproof the first time they are used. To be completely waterproof, the fabric must first be wet. Once it dries, the fabric will be woven together to make it completely waterproof.
Some bell tents do not have zippered or fully closable front doors and instead are tied shut-if you want a bell tent for heavy scenes, this is great, not very useful in terms of practicality, especially when it is windy and rainy
Depending on the weight of modern-style tents and poles, you may find that bell tents are bigger and heavier to carry, so keep this in mind if you need to carry your tent any distance, this is especially true if the tent is wet during takedown.
The weight of a wet
canvas bell tent
is equivalent to a small planet
Buy your bell tent out of season. Like all camping equipment, if you buy it at the end of the year or over winter, you will get a better deal.
Bell tents previously rented from luxury camping companies are often sold at low prices, so if you have a tight budget or want discounts, be sure to keep your eyes open.
Many bell tents do not have fly sheets covering the air vents or doors, so our suggestion is to choose bell tents with fly cloths
If you have a 5m bell tent or over, some campsites will charge you extra, if you have an oversized or even double tent
Canvas takes longer to dry than modern tents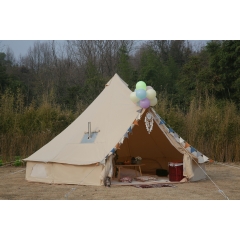 bell tent
What are the benefits of a bell tent?
Fast to put up and takedown
Anything within 5 meters can be easily erected by one person
They come in many different designs and colors, so they are ideal for those who like to stand out
The cotton canvas tent is breathable, which helps regulate the temperature more effectively (it won't wake up in the summer morning and feel like a hapless lobster)
The indoor space is more flexible than many modern tents because the internal tents can be purchased and positioned to meet your needs
There are many styles of bell tents, both sides can be rolled up to get maximum airflow, very suitable for hot summer
If you don't have camping furniture in your tent with you, it has a lot of floor space, making the bell tent very suitable for sleeping lots of people
Most
cotton canvas bell tents
can be used with wood-burning stoves (you need a suitable chimney opening making for this however and always double-check with the manufacturer first)
With proper care, they can be used for many years
We are
canvas bell tent suppliers
. Please feel free to contact us if you are interested in our products.