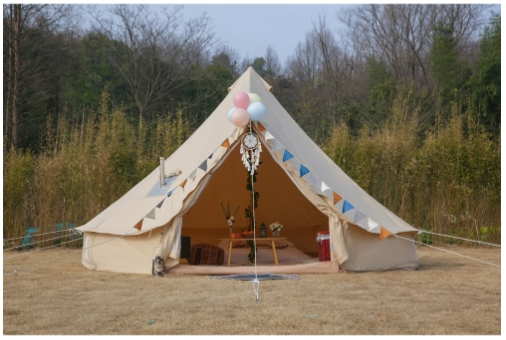 Most campers choose to build
a bell tent
during their journey. What are the specific reasons? This article is shared with you.
The special features of a bell tent
From our point of view, one of the great advantages of having a bell tent is the ability to use a wood-burning stove in it. If you intend to adapt your bell tent for this purpose, you will need to fit a flashing kit to the tent, which means that you will need to cut a hole in the side of the tent if you do not already have an opening in your bell tent.

Bell tent material
Traditionally,
bell tents
are made from 100% cotton canvas. Some of the advantages are that canvas tents can last a long time if they are properly cared for and they are also very breathable.
However, some of the disadvantages are that 100% cotton canvas tents are usually more costly, they are not waterproof when first used, and require a fair amount of care to keep in good condition. With this in mind, bell tent manufacturers have been looking at alternatives and at the time of writing, the following options are currently available.
100% cotton canvas
Polyester
Oxford canvas
Polyester cotton
What size bell tent should you choose?
Modern tents often state that they are 4 or 6 person tents. Tent manufacturers will often recommend a 5m bell tent. This will allow 6 or more people to sleep in it. However, most bell tents do not give you this information and focus on the size of the tent, which usually varies from 3m to 7m.
So if you are a small family or a couple, you may think that 5m is too big. But you are not taking into account the fact that everyone in the tent will also be carrying luggage. Of course, if you have camping furniture, you will need extra space and therefore won't be able to sleep with so many people. Even if you don't have a lot of camping gear with you, you still need space for bags and stuff. If not camping furniture, at least a torch, and camping chairs. Try fitting a few camping chairs and 6 people into a 5m bell tent and you'll give up on your previous idea.
We are
a bell tents supplier
, so please feel free to
contact us
if you need them.