Why Are Bell Tents So Popular?
Different people have different reasons. Many people like this bell tent, it looks beautiful, stylish, and simple in design. Others think the ease of setup and packaging is a huge advantage. You can stand and walk around in the bell tent, which is another attraction. Never lie down and wear jeans anymore! Some people just like the feeling of sleeping in the
best canvas tent
.
The bell tent is a popular choice for music festival camping and "luxury camping" accommodation. As a comfortable outdoor adventure place, it is becoming more and more popular with families and couples. In more adventurous places, this is a good car camping tent-a a comfortable, sturdy, and reliable outdoor
camping tent
.
The bell tent is a circular canvas tent with a support column 2-3 meters high in the middle. Its bell shape is the tension created from the perimeter of the rope around it. Similar to the famous Sibury tent invented by Henry Hopkins Sibury in 1856, the Bell tent was mainly used by explorers in the 19th century. The sound structure of the bell tent, its ease of assembly, and the ability to accommodate many people make it a popular and superior solution. In modern times, bell tent has discovered a new kind of loyal campers who recognize their main advantages. Modern bell tents still use the same basic shape but are very different in terms of characteristics and quality.
We are
bell tent suppliers
. Please feel free to contact us if you are interested in our products.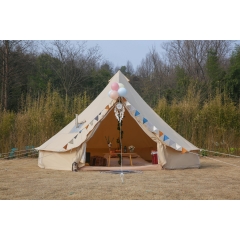 Tent